Omaha Mother Saves $3,000 Using Online Book Swap
KETV 7/OMAHA NE (TV) - 10/19/2009 by Kristi Andersen :: Media Content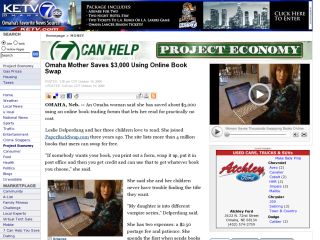 OMAHA, Neb. -- An Omaha woman said she has saved about $3,000 using an online book-trading forum that lets her read for practically no cost.
Leslie Delperdang and her three children love to read. She joined PaperBackSwap.com three years ago. The site lists more than 4 million books that users can swap for free.
"If somebody wants your book, you print out a form, wrap it up, put it in post office and then you get credit and can use that to get whatever book you choose," she said.
She said she and her children never have trouble finding the title they want.
"My daughter is into different vampire series," Delperdang said.
She has two expenses: a $2.50 postage fee and patience. She spends the first when sends books to others. She spends the second when she waits for others' books.
"You won't get it right when it comes out, but you will eventually get it," she said.
PaperBackSwap also has two other sites where users can trade DVDs and CDs.