Greener Reading For The Whole Family
Mother Nature Network (Website) - 8/25/2009 by Jenn Savedge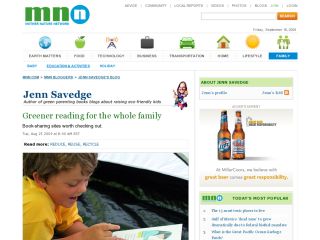 I'm happy to report that, like me, my girls love to read. Funny books, scary books, books about spiders, or comic books ... if you set it in front of them, they will start reading it. But as much as I'd like to buy every new book that hits the store shelves, I needed to find a way to save paper (and cash) while making sure my girls had lots of great books to read. Here's what I found, the best bets for both your wallet and the planet when looking for greener reads for your family:
Book-sharing sites worth checking out.
The library: Hands down, the cheapest and most eco-friendly place to get books is at your local library. And did you know that September is Library Card Sign-Up Month? Sign up with your kids and enjoy great green reads all year long.
Swap sites: The first place I check for swapping books is with friends and family. If I'm looking for something specific, I might try Paperbackswap.com where you can swap, trade and exchange books for free.