Clean Up Book Clutter With Paperback Swap
Green Daily (Website) - 12/29/2008 by Christina Clark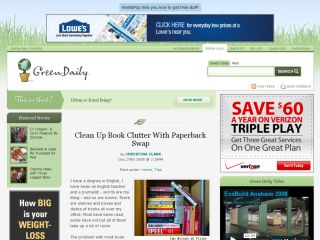 I have a degree in English, I have been an English teacher and a journalist - words are my thing - and so are books. There are shelves and boxes and stacks of books all over my office. Most have been read, some have not but all of them take up a lot of room.
The problem with most book lovers is that we don't stop buying new books, even if we don't get rid of the old ones. No matter what you collect, this is the time of year that everyone thinks of getting rid of some clutter. If you need to reduce the amount of books you have, you can try Paperback Swap.
Basically, you post the books you want to get rid of (they must be in good condition) and if someone wants them, you mail the book off to them. Then you receive a credit, which you can use to "buy" a book from another member, which they will mail to you. All you pay for is the postage of the books going out - normally under $2.50 for a paperback.
You can save up your credits and use them slowly or spend them as soon as you get them, depending on the book control policy at your house. You can also give the credits to other members or just not use them if you really want to clear out your bookshelves.
Personally, I am sending out lots of books and saving most of the credits. I have requested two books, which are on the way to me but I am saving the majority of my credits for books on my wishlist. When those become available, I'll have plenty of credits to get them right away. It's a nice supplement for finding books I can't get at my local library.