Online Book Swaps: 'Tis Better To Give And Receive
The Washington Post (Newspaper) - 12/14/2008 by Rachel Kaufman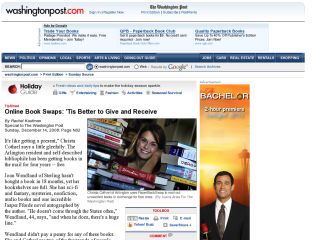 It's like getting a present," Christa Cothrel says a little gleefully. The Arlington resident and self-described bibliophile has been getting books in the mail for four years -- free.
Joan Wendland of Sterling hasn't bought a book in 18 months, yet her bookshelves are full. She has sci-fi and fantasy, mysteries, nonfiction, audio books and one incredible Jasper Fforde novel autographed by the author. "He doesn't come through the States often," Wendland, 44, says, "and when he does, there's a huge line."
Wendland didn't pay a penny for any of these books. She and Cothrel are two of the thousands of people using the Web site PaperBackSwap to trade books. The autographed Fforde cost her one "credit," which Wendland received when she mailed an old book to someone else.
Richard Pickering and Robert Swarthout founded PaperBackSwap in 2004, when Pickering was traveling for work. "I would buy paperback books at every airport that I went to. . . . I amassed a very large collection of read-once paperbacks," he says. After trying to sell them to a used bookstore ("the woman went through five boxes of books and picked out four that she liked") and failing to unload them online, he hit on the idea of a Web site where readers could trade titles for the cost of postage.
Cothrel, 39, started by listing some history books she'd used in college. "I was amazed at how many people wanted to hear about early Colonial Puritans. Within a day [the books] were all asked for." She uses her credits to trade for contemporary fiction and fitness books for a class she teaches. "I don't know how many books you can write about abs, but apparently quite a few -- and think I have all of them," she says with a laugh.
There can be a social aspect to book-swapping, too: PaperBackSwap's organizers try to foster community through online forums. And when Wendland noticed she was mailing a book to someone in Vienna, "I called her and said, 'Instead of me paying postage, why don't I meet you for lunch?' " The two now save books for each other and trade them in person.
How PaperBackSwap Works
1. Post books you own that you no longer want.
2. Members request books from you; the Web site sends you an e-mail letting you know a book has been requested.
3. Mail the book to the address provided; you can use the book rate to save on postage. (Most books cost $2.23 to mail.)
4. When a member receives your book, you get a credit, which you can spend on any other book on the site.
5. You request a book. When it arrives, you can keep it, give it away or repost it on the site -- your choice!
Judge These Sites by Their Covers
There's more than one way to trade online. Here are details on PaperBookSwap and similar sites:
BookCrossing.com
Users: More than 730,000
Books registered: About 5.3 million
Cost: Free
Just books? Yes
Other notes: Works not through trades between members, but by users "releasing" books into the "wild" in public places (park benches, coffee shops). Those who find the books register their finds on the site, tracking their progress around the world.
Bookins
Users: More than 30,000
Books available: More than 512,000
Cost: $4.49 to receive a book; sender's postage provided.
Just books? No, you can give and receive DVDs, too.
Other notes: The site coordinates transactions and handles any follow-up, so users don't have to deal with other members directly.
BookMooch
Users: About 25,000 active users
Books available: About 52,000
Cost: Sender pays postage.
Just books? Yes
Other notes: Operates internationally, unlike most swapping sites.
Novel Action
Users: Company doesn't disclose this information.
Books available: About 7,000
Cost: $25 a year plus postage
Just books? Yes
Other notes: Good for bulk readers. Pick out an entire box of books at a time, and then ship back an equal number of quality books.
PaperBackSwap
Users: "Tens of thousands," according to co-founder Richard Pickering, with 10,000 logging in on any given day.
Books available: More than 2.7 million
Cost: Sender pays postage.
Just books? Yes, but points can be traded to sister sites SwapaCD and SwapaDVD.
Other notes: The biggest book-trading site on the Internet recently had titles by Jodi Picoult and T.S. Eliot. -- R.K.