Enjoy Life And Save Money At The Same Time
The Chronicle (Website) - 11/3/2008 by LeAnne Munoz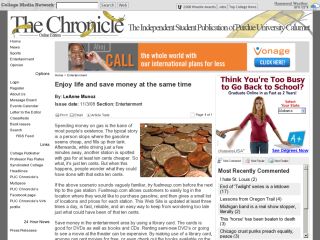 Spending money on gas is the bane of most people's existence. The typical story is a person stops where the gasoline seems cheap, and fills up their tank. Afterward, while driving just a few minutes away, another station is spotted with gas for at least ten cents cheaper. So what, it's just ten cents. But when this happens, people wonder what they could have done with that extra ten cents.
If the above scenario sounds vaguely familiar, try fuelmeup.com before the next trip to the gas station. Fuelmeup.com allows customers to easily log in the location where they would like to purchase gasoline, and then gives a small list of locations and prices for each station. This Web Site is updated at least three times a day, is fast, reliable, and an easy way to keep from wondering too late just what could have been of that ten cents.
Save money in the entertainment area by using a library card. The cards is good for DVDs as well as books and CDs. Renting semi-new DVD's or going to see a movie at the theater can be expensive. By making use of a library card, anyone can rent movies for free, or even check out the books available on the shelf. Rescue the wallet from the prices at Borders by renting a book for two weeks. That way it won't lie around collecting dust afterward.
If there are any diehard movie buffs out there, just spend $14.99 a month and sign up for NetFlix.com, a site allowing members to rent and return any movie they wish, all at their own convenience.
If reading is more entertaining to some, and the library doesn't seem to have the books needed to strike a person's fancy, try paperbackswap.com. This online organization allows all of its members to share any book they might own, and the only cost is postage. Checking out film screenings at local schools, book readings at local libraries, or free concerts at local coffee shops are other great ways to stay entertained without spending too much money.
Spending money on the hottest clothing items is another way people waste money. A great money-saving tip is to take a quick peek into a friend's closet. If an outfit is no longer interesting, give it to a friend for something they are willing to exchange. This keeps people from spending too much money; as well as make use of the phrase, one man's trash is another man's treasure.
Saving money may seem like an art form to some. It may appear hard to accomplish, and that other people are only capable of doing it. But with a little motivation and drive, anyone can save money and still enjoy life.