The Perks Of A Virtual Book Club
CBS 13 Sacramento (TV) - 11/8/2007 by Dave Bender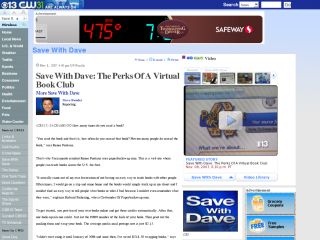 (CBS13) SACRAMENTO How many times do you read a book?
"You read the book and that's it, how often do you reread that book? Not too many people do reread the book," says Renee Fontana.
That's why Sacramento resident Renee Fontana uses paperbackswap.com. This is a web site where people can trade books across the U.S. for free.
"It actually came out of my own frustration of not having an easy way to trade books with other people. Often times, I would go on a trip and come home and the books would simply stack up in my closet and I couldn't find an easy way to tell people what books or titles I had because I couldn't even remember what they were," explains Richard Pickering, who is Co-founder Of Paperbackswap.com.
To get started, you post ten of your own books online and get three credits automatically. After that, one book equals one credit. Just list the ISBN number of the back of your book. Then print out the mailing form and wrap your book. The average media mail postage cost is just $2.13.
"I didn't start using it until January of 2006 and since then; I've saved $518.50 swapping books," says Renee.
Sounds too good to be true?
"That's one of the great things about this club, we actually have a phrase, we say, there's no gotchas, no gimmicks, no kidding," Richard says.
You can also trade hard covers and audio books, but you'll have to go to a post office because of the heavier weight.
The link for the website is www.paperbackswap.com.
The web site is currently working to launch a DVD swapping site, so stay tuned for that.