Love Freebies? Check Out This List Click On These Web Sites Where You Can Get Goodies Without Paying A Dime
The Today Show (TV) - 10/23/2007 by Jancie Lieberman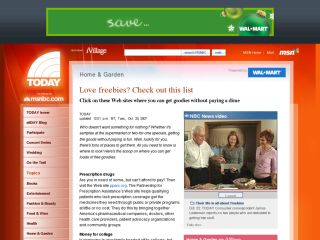 Who doesn't want something for nothing? Whether it's samples at the supermarket or two-for-one specials, getting the goods without paying is fun. Well, luckily for you, there's tons of places to get them. All you need to know is where to look! Here's the scoop on where you can get loads of free goodies:
Prescription drugs
Are you in need of some, but can't afford to pay? Then visit the Web site pparx.org. The Partnership for Prescription Assistance's Web site helps qualifying patients who lack prescription coverage get the medicines they need through public or private programs at little or no cost. They do this by bringing together America's pharmaceutical companies, doctors, other health care providers, patient advocacy organizations and community groups.
Money for college
Is someone in your family headed off to college, but tuition is too much? Don't be discouraged; there is a lot of free money for qualifying college students out there. Start at this Web site: Finaid.org. Here you'll find a listing of undergraduate scholarships and graduate fellowships, all of which help students pay for their education.
Books
Are you an avid reader? Well, now you can get free books without going to the library! Paperbackswap.com allows people from all over to exchange books with others for free. Although you need to pay for shipping, all you really need is an e-mail account, a mailbox and a love for reading!
Product samples and cosmetics
Love getting those samples at the makeup counter? Then visit: Startsampling.com. From food to hygiene products, this Web site will give you lots of goodies because they connect manufacturers with consumers who test products. A word of caution, though: Your inbox may end up flooded with ads.
Reminders
Are you overloaded with commitments? Do you always forget important dates, birthdays or appointments? Would you like to be reminded of them? Check out Memotome.com. You'll never have to send a happy belated anniversary again, or reschedule a appointment because you forgot. Simply put in your e-mail address, the dates and events that you want to be reminded about and a reminder will be sent to you!