Online Club Allows Members To Swap Books With Others Across The Country
CitizensVoice.com (Website) - 7/23/2007 by BY TAREVA TABRON/STAFF WRITER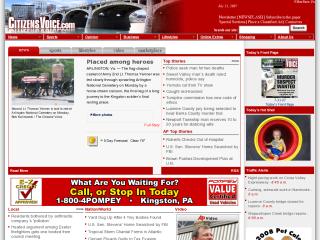 Danielle Kishbaugh of Hazleton has expanded her home library of books from a corner-full to more than 300 in two years without buying a single tome.
As a member of the Internet book club Paperbackswap.com, she is able to swap books with other members across the country and only pays shipping for books she sends out.
Paperbackswap.com was conceived by Richard Pickering with the goal of using paperback books that are in good condition. Club members can find a book they want to read and swap it with other members by mail.
When a person becomes a member, he/she simply enters the International Standard Book Numbers or ISBNs of the books he/she is willing to swap. These books go onto the member's "bookself" and also are listed in searches. When another member requests one of the books, he/she ships the book to the other member and pays shipping costs. Once the book is received by the other member, the member who shipped the book gets a credit to use for a book he/she would like to have shipped to him. When a member picks a book, he/she uses one credit and does not pay shipping.
The books do not have to be returned. Once a member receives a book, it's his/hers to keep. The member can relist the book if he/she wants.
Pickering, who used to buy books from eBay and Amazon, became frustrated with paying for the books as well as shipping and handling charges.
He founded the Web site with his co-partner, Robert Swarthout, in 2004. Today, it boasts more than 1 million titles.
Kishbaugh, who found the site through another book club two years ago, said the site has had a positive impact on how much she and her two children read.
ttabron@standardspeaker.com, 570-455-3636
©The Citizens Voice 2007