Cyber Swapping
Teacher Magazine (Website) - 7/10/2007 by Amanda Jones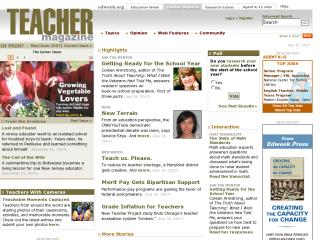 Norwood, Colo., sits more than a mile above sea level on Wright's Mesa, surrounded by Lone Cone Mountain and the Uncompahgre Plateau. The town, population 456, offers plenty of scenery but few amenities. "There are no bookstores to browse in, unless I drive over two hours," Michelle Barkemeyer laments. And for Barkemeyer, who is working on a teacher's budget and has limited free time, the half-day trek is quite an investment.
Enter online book swapping. Cheaper than Amazon and more efficient than eBay, it's useful for rural residents and city slickers alike. Barkemeyer was thrilled when she found PaperBackSwap.com in an online teacher forum.
"For me, it's convenience and price," she says. "The more things I can do online, the easier my life becomes."
PaperBackSwap, BookMooch, FrugalReader, and Zunafish, all popular book-swapping sites, were each started as pet projects by entrepreneurs who wanted to clear the clutter from their houses and get something in return.
The first three sites are free to join, charging only for postage. Each operates on a point or credit system, allowing customers to list the books they currently have and utilize the points from those sales to swap for other members' listings. Zunafish, which also offers CDs and DVDs, charges a dollar per purchase and works under a direct trading system between members.
A Classroom Resource
Online book-swapping services have found a growing audience among teachers—a group that is always on the look out for inexpensive resources and is becoming increasingly involved in online networking.
Ninth-grade English teacher Stephanie Hyatt, a self-confessed bookworm, uses PaperBackSwap for more than just swapping books. "It's a big community system with forums where people can trade ideas and discuss things they are teaching and thought about teaching," says Hyatt.
"Just like with any local book club, it's about sharing your experiences, and that includes the social aspect of the club; discussion forums, personal messaging, live chats," says PaperBackSwap co-founder Richard Pickering. "What we're finding is that members are creating long lasting friendships in situations where they may never meet."
President and founder of FrugalReader Gene McCabe describes a similar cyberspace community on his site. After one of FrugalReader's teacher members posted a message saying her school could not afford enough books for its students, she received hundreds of donated credits in response, and now posts regular updates about how her class is doing.
John Buckman, the founder of BookMooch, encourages teachers to register their schools as a charity so they can receive free points from community members. "A small number of libraries have already signed up, but I'd love to have more [schools], because people prefer to give points in their neighborhoods," he says.
Zunafish co-founders Dan Elias and Billy Bloom point to the environmental benefits that extend beyond membership—the inherent lesson for students and adults in the site's anti-consumerism message. English teacher Hyatt agrees, "It's the ultimate in recycling."
Barkemeyer and Hyatt, however, admit to a downside. Because the books are sent by media mail, it sometimes takes a while to receive them. Hyatt mailed books from Huntsville, Ala., to Georgia and Montana, and while the Montana book arrived in three days, the Georgia book took two weeks.
But unless it's the latest Harry Potter book or Dan Brown thriller you're searching for, both teachers—who use the site mainly for teacher resource books—find the process to be worth the wait. There may even be something in the mailbox to tide you over—FrugalReader members have been known to send each other birthday cards and get well letters.