Tip O' The Day: Read 'em And Weep
Green Options (Website) - 6/15/2007 by Amy Stodghill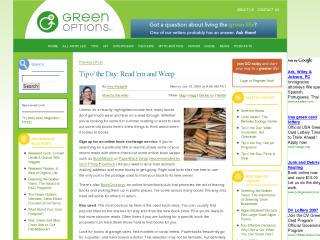 Unless it's a heavily highlighted course text, many books don't get much wear and tear on a read through. Whether you're looking for some fun summer reading or want to clear out some old books here's a few things to think about when it comes to books.
Sign up for an online book exchange service. If you're searching for a particular title or want to share some of your recent reads with others check out some online book swaps such as BookMooch or PaperBack Swap (recommended by GO's Philip Proefrock.) All you need is an e-mail account, mailing address and some books to get going. Right now both sites are free to use - the only cost is the postage used to mail your book to its new owner.
There's also BookCrossing, an online forum/book club that promotes the act of leaving books and picking them up in public places. I've come across many books this way and have left some for others in return.
Buy used. The most obvious tip here is the used book store. You can usually find popular titles on the shelves for way less than the new book price. Plus you're likely to find more obscure reads. Often times if you are looking for a specific book the proprietor can track down those hard to find books for you.
Look for books at garage sales, flea markets or swap meets. Paperbacks frequently go for a quarter, and hard covers a dollar. The selection may not be fantastic, but definitely a great bargain.
Library. Duh. You know, the place where you can borrow books for free.
Donate your unwanted books. Many used book stores and libraries also accept books for donation. Used book stores may even give you store credit or cash for books they think they can resell. But call first before you drop off to make sure the location near you is accepting donations. (I recently lugged a stack of books to my neighborhood used book store only to be told that they weren't accepting donations at the moment.)
Swap books with friends. I'm always reading books on the recommendation of others. If a friend recommends it chances are they've got the book. Ask to borrow it. Or if you're doing the book lending (especially if you want the book back) put your name in it. If you don't like to defile books, or the permanence of pen scares you, just write you name in pencil inside the front cover or on the first page.
Amy says: I've got a secret obsession for mystery novels and I never buy them new and get them for free when I can.