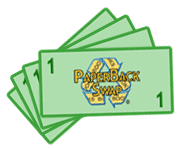 PBS Money

is used to pay for Printable Postage, Swap fees (to request books),

Kiosk

items and PBS Market Books.
You can also use PBS Money to enroll in Annual Membership (from the Kiosk).
You can buy PBS Money in the Kiosk.
Why use PBS Money?
PBS Money allows you to:
Request a book (each request costs 49 cents for unenrolled ("A la Carte") members - read about membership types here)
Print Postage (including tracking) onto your

wrapper

to send a book

Eligible accounts earn Instant Credit and a "Free Swap" (a "Free Swap" allows you to request a book using only Book

credits

, without being charged a Swap Fee) when marking a shipment "mailed" with Printable Postage.
As stated in the Terms of Use, Kiosk purchases are non-refundable.
---
Related Links:
All About PBS Money


old custom dc info, old postal rates 2017, 2018
What methods of payment does PaperBackSwap accept?